How a Small Town, With a Big Heart, Achieves Great Things
Four years ago, Emily Rios moved to Gonzales because her husband wanted to raise his own family in the town where he grew up. A transplant from the suburbs of San Diego, Rios instantly fell for the small-town appeal of her new home.
"People just step up every day to make this a better place for everyone," says the 31-year-old mother and former music teacher.
Residents of Gonzales talk about feeling connected and take exceptional pride in the notion that anyone can be a force to improve the community. Rios describes the much-touted Gonzales Way as an "everyone-looks-out-for-everyone mentality."
It can be a small gesture like when a local pharmacist, Jimmy Eitoku, needed a place to conduct weekly classes on managing diabetes and the city opened the doors of the City Council Chambers. "They just handed me the key and said, return it when you're done," says Eitoku, owner of the Gonzales Pharmacy.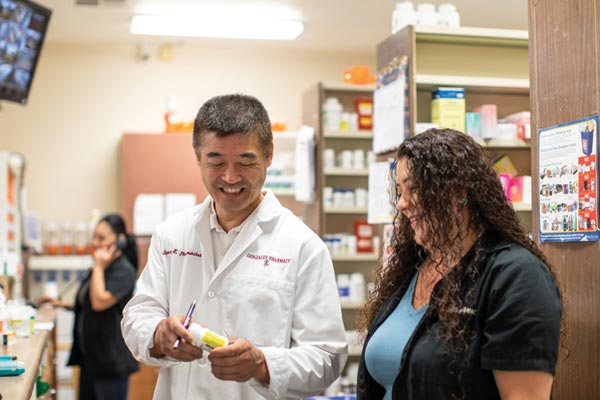 Or it can be a serious challenge like addressing a shortage of healthcare providers. In 2012, a county-led assessment of the health needs in Gonzales found that one in five people had no regular physician or clinic for preventive and routine care. At the time, Christine Ponzio was overwhelmed as the city's sole physician and decided to merge her practice into the Salinas Valley Memorial Healthcare System (SVMHS). The health system, in turn, set out to build a new wellness center, with a local employer, Taylor Farms, donating $1 million toward the $3 million cost. "It was heartening for that to happen," Ponzio says. Gonzales now has three fulltime physicians and three physician assistants.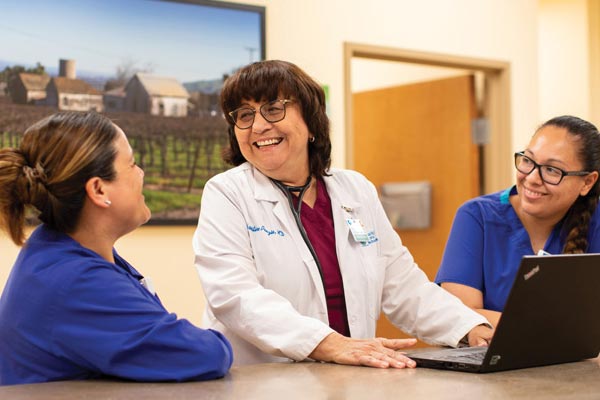 At the same time, a second nonprofit clinic opened that caters to farm workers. As more people are getting the care they need, both clinics are expanding and adding services, including onsite rehabilitation for farm workers. Lifted by a sense of possibility, residents in Gonzales are encouraged to engage in shaping solutions and owning outcomes.
A group of about a dozen residents participated in a Resident Leadership Academy, convened by the Monterey County Health Department. The group, which introduced participants to policy development, engagement, and advocacy, "paved the way for more collaboration to come with the local residents," says Carmen Gil, manager of health in all policies for the Monterey County Health Department.
City leaders, too, give people space to agree or disagree. One of the community's most pressing challenges is adding more units of affordable housing. But the city had to table a recent plan for a new development after some residents objected to using a city parcel that had previously been earmarked for a community center. In the wake of the project's rejection, city planners have invited residents to meetings and workshops to discuss all the issues that were raised as they work to address their concerns and revise their approach to the project. "It takes work to go back to the community to listen, and be authentic about it," says City Manager René Mendez.
In building a Culture of Health, the community makes intentional efforts to create a sense of belonging, security, and well-being by drawing people together through efforts like the Friends, Family and Neighbors program, run by Community Action Partnership of San Luis Obispo and funded by the city and the United Way Monterey County. Recognizing that many parents rely on friends or family to take care of their children, the program hosts playgroups to allow toddlers as well as their caregivers to connect. Volunteers show caregivers skills and activities that they can apply to prepare children for school.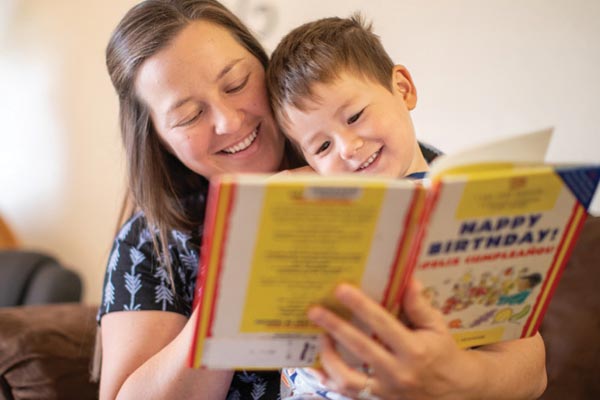 Emily Rios volunteers for the playgroup, teaching children songs in English and Spanish. "As a stay-at-home parent or as a caregiver, it's hard sometimes to get out and about," she says. "Every other Wednesday, this gives them a reason to get out, to go for a walk, to get out in their community."
The playgroup, she says, is part of the Gonzales Way. "I know my husband and others who want to come back here and raise their families here because of that special Gonzales connection," Rios says.
(Text and video used courtesy of the Robert Wood Johnson Foundation, copyright 2019; Photos used courtesy of the Robert Wood Johnson Foundation, copyright 2019 Josh Kohanek.)