CORONAVIRUS (COVID-19) Advice & News
We've created this page as a central place for Gonzales residents to find updated advice and news about coronavirus, also known as COVID-19. Here's the latest:
Face Covering Order
Here are the latest documents concerning the current Face Covering Order in Monterey County.
Frequently Asked Questions and Answers about the April 28, 2020 Monterey County Health Officer Order Requiring Members of the Public and Workers to Wear Face Coverings
Supplement to the Shelter-in-Place Order 
Monterey County Health Officer announces changes to current Shelter In Place Order
Post Date:05/07/2020 2:24 PM

Monterey County Health Officer Dr. Edward Moreno today issued a supplement to the current Shelter-in-Place Order allowing local businesses to conduct limited re-openings as Gov. Gavin Newsom launches Stage 2 of his Reopening Roadmap.

Beginning Friday, May 8, 2020, local retail businesses may begin providing curbside pick-up services to customers. Examples of such businesses include bookstores, clothing stores, florists, sporting goods stores and other over-the-counter retailers. In addition, manufacturing and supply chain workplaces supporting these businesses may open. Social Distancing Protocols must be followed in all of these settings. Members of the public may place orders online or via telephone only.  Retailers are not allowed to display merchandise on sidewalks.

Other types of businesses, including shopping malls, dine-in services, hair and nail salons, movie theaters and more, remain prohibited from operating. 
Business owners are advised to review State guidance to determine whether their establishments may reopen as well as operational practices, so that they may avoid enforcement actions.  
Please click here for more information.
Shelter-in-Place 
Dear residents and partners of Gonzales,
Monterey County's Health Officer, Dr Moreno, has issued an updated Shelter-in-Place Order effective midnight May 1, 2020. This requires all Monterey County residents to stay home, unless they are part of the essential services provisions (see attachment below explaining what constitutes essential services). You will also find a letter to the community answering your most frequent questions.
----------------------------------------------------------------------------------------------------------
El día 16 de marzo el Oficial de Salud del Condado de Monterey, Doctor Moreno, emitió una Orden de Refugio a partir de la medianoche del 18 de marzo de 2020 hasta el 8 de abril de 2020. Esto requiere que todos los residentes del Condado de Monterey se queden en casa, a menos que formen parte de las disposiciones de servicios esenciales (vea el adjunto para ver qué constituye servicios esenciales). Vea la carta a la comunidad a continuación, así como las respuestas a sus preguntas más frecuentes adjunto.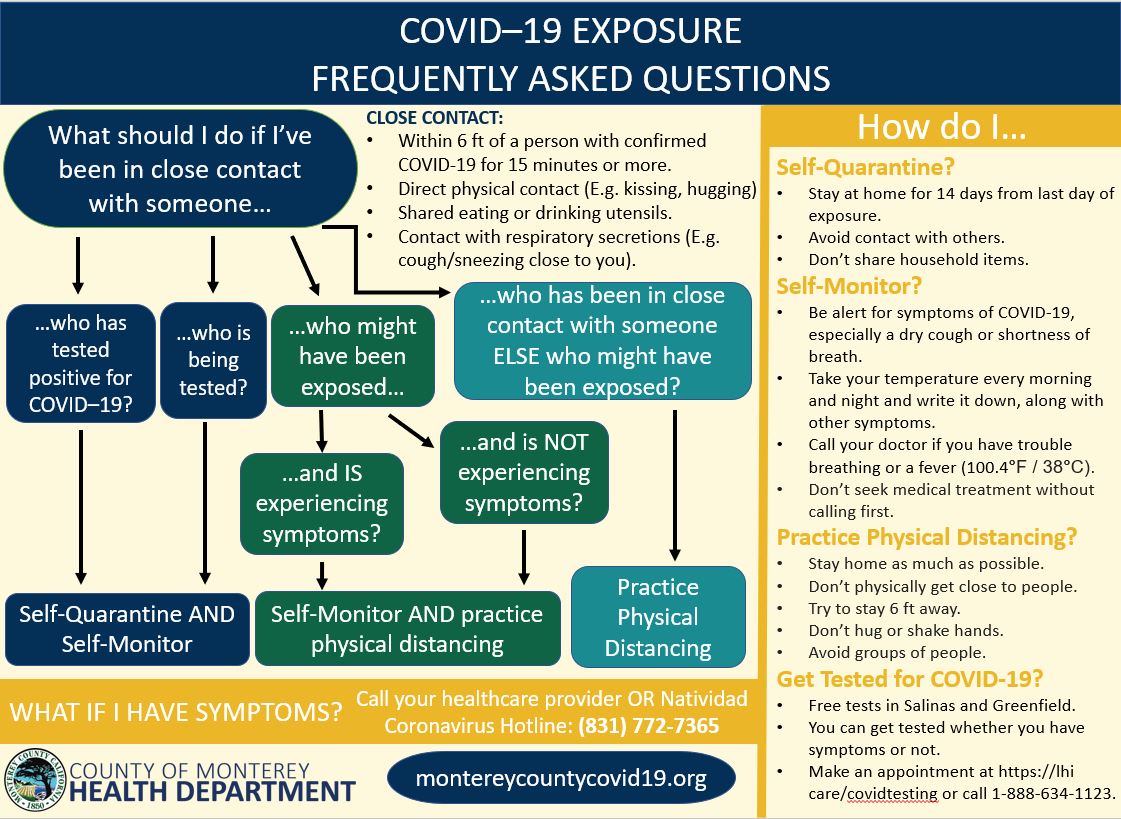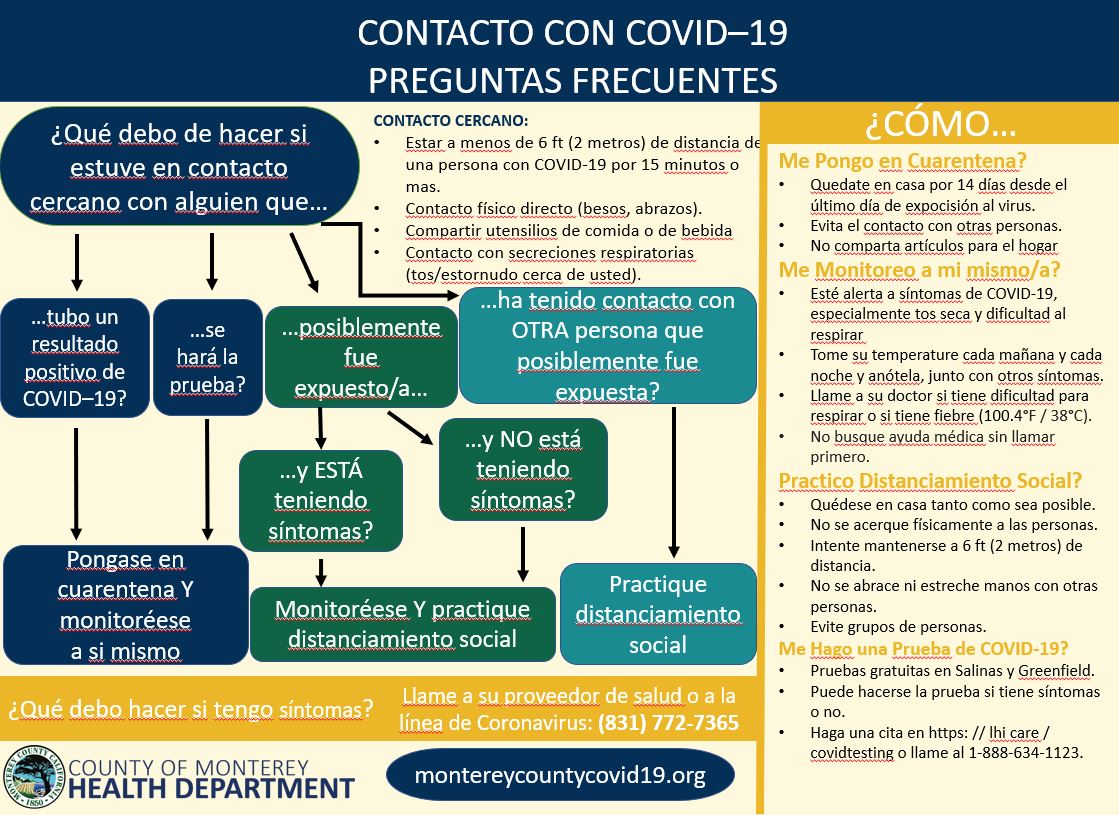 Gonzales Cares Program 
The City has worked to gather resources through various funding sources to put together a local housing support fund, to help avoid displacement during the COVID-19 crisis. For more information please see attached documents.
------------------------------------------------------------------------------------------------------------
Programa Cares de Gonzales
La ciudad ha trabajado para reunir recursos a través de diversas fuentes de financiamiento para armar un fondo local de apoyo para viviendas, para ayudar a evitar el desplazamiento durante la crisis de COVID-19. Para obtener más información o para preguntas sobre el programa, por favor de mirar los documentos adjuntos.
Look here for information about assistance to local businesses.
Information by Region
Federal, state, and local government agencies are providing frequently updated information at these web locations:
As you know, the responses to the COVID-19 pandemic are touching all aspects of our daily lives and difficult decisions are having to be made throughout all communities in our County, State and Country. Our goal is that all residents stay safe and healthy throughout this time of crisis. After careful consideration of all the information we have been provided and the recommendations from Public Health Officials, coupled with the Governor's Executive Order, and recent local school closures, the most prudent and safe course of action is to postpone until further notice all Recreational Programing. This includes:
Shrek Jr.
Kid Power After School Program
Recreational Pre-school
Softball
Mini T-ball programs.
We firmly believe it is the best course of action given the information we have to date and will do our best to minimize the amount of time that families are affected by these closures. Thank you for your patience and understanding throughout this entire process. Please take all the necessary precautions to keep your families and our community safe and healthy.
Continue to visit us for important updates.
— — — — —
Como ustedes ya saben, las respuestas a la pandemia de COVID-19 están tocando todos los aspectos de nuestra vida diaria y se están tomando decisiones difíciles en todas las comunidades de nuestro condado, estado y país. Nuestro objetivo es que todos los residentes se mantengan seguros y saludables durante este tiempo. Después de una cuidadosa consideración de toda la información que se nos ha proporcionado y las recomendaciones de los funcionarios de salud pública, junto con la Orden Ejecutiva del Gobernador y los recientes cierres de escuelas locales, el curso de acción más prudente y seguro es posponer hasta nuevo aviso toda la Programación Recreativa. Esto incluye los programas:
Shrek Jr.
Kid Power After School Program
Recreational Pre-school
Softball
Mini T-ball programs.
Creemos firmemente que es el mejor curso de acción dada la información que tenemos hasta la fecha y haremos todo lo posible para minimizar la cantidad de tiempo que las familias se vean afectadas por estos cierres. Gracias por su paciencia y comprensión durante todo este proceso. Tome todas las precauciones necesarias para mantener a sus familias y nuestra comunidad seguras y saludables.
Continúa visitándonos para actualizaciones importantes.
News
If you have been longing for a get together with friends or family to celebrate the 4th of July - you can have one by creating a Social Circle!…
GONZALES CARES PROGRAM  The City has worked to gather resources through various funding sources to put together a local housing support fund, to…